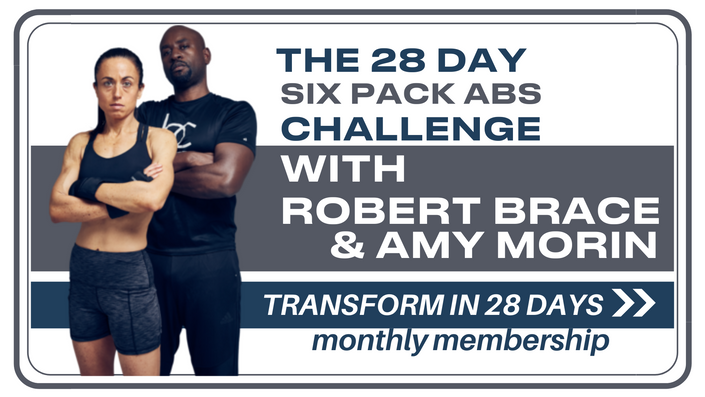 Amy Morin & Robert Brace | Six Pack Abs 28 Day Challenge | Monthly Membership
Weekly Workouts, Guided Meditations, Recipes, Detox, Wellness Motivation & More
Watch Promo
Join celebrity trainer and "Mind-Body-Soul Connector," Robert Brace, alongside psychotherapist, international bestselling author, and "Mental Strength Coach," Amy Morin, as they do the workout that got Amy six-pack abs in only 28 days. Get fresh new workout and motivational content every week. Robert's "Wellness Mindset Makeover" videos will help you transform the way you think about your overall health and wellness on your six-pack abs journey. And you can listen to Amy's words of wisdom on developing the mental toughness to win on short term challenges.

THE 28 DAY CHALLENGE WORKOUT
The 28 Day Challenge is a complete body transformation system designed to get you maximum results in minimal time. The program includes 28 days of workouts, motivational videos before each workout, a meal plan, and a lifestyle transformation guide so that you can keep and continue to improve on your results. These three components will put you on the fast track to stunning results. See 25 Stunning 28 Day Transformations
1. THE WORKOUT My goal is to give you the most effective total body transformation workout system. Every workout is jam-packed with the most effective science-based training techniques available, making the best use of your time. Every workout includes abdominal work, muscle building and toning, and interval training to blast body fat and build muscle. (See section below for the science.)
2. THE MEAL PLAN Our fat-blasting Meal Plan" is specifically designed to work with the workout, putting you on the fast track to blast away your body fat, while providing you with the energy to give your absolute best. The plan is a low-carb, low-sugar, low-fat plan that comes with meal suggestions and recipes.
3. THE LIFESTYLE TRANSFORMATION SYSTEM
You will receive guided meditations, mindset motivations, and wellness tips. These are designed to ReSHAPE your body, ReFOCUS your mind, and ReFRESH your soul. Robert and Amy will share thoughts to motivate you and give you strategies to set your intentions, stay on track, lose weight, get healthy, and find peace.

Our commitment to you is that the next 28 days and beyond will transform your lifestyle in a positive, healthy way. We will give you all the tools you need to understand the root of this transformation so you can continue your success well beyond your completion of the program.
SCIENCE BEHIND THE WORKOUT
The 28 Day Challenge is a cutting-edge fusion of interval training, weight training, and secret body-sculpting techniques that have produced jaw-dropping results! The science-based, clinically-proven techniques used in this program are used by Olympians, professional athletes, and bodybuilders.
Selective Sequencing: The exercise selection method and workout progression techniques are proprietary. Our secret method enables you to master basic muscle toning and building movements with correct form — supercharging your results!
Fierce Form: You will learn how to use "Fierce Form" principles to maximize your results. Correct form increases the effectiveness of your muscle toning and fat burning while reducing the possibility of injury. Good form can make you look taller, your waistline appear thinner, your legs look longer, and your shoulders broader. Using this principle you will learn the secret of losing an inch in one minute.

Interval Training:
Interval training is a technique that alternates between short bursts of high-intensity activity followed by short rest periods or low-intensity activity. You get better results than traditional cardio training in a fraction of the time. Your body's fat-burning activity will be in an elevated state for hours after your workout. You will burn fat quicker, get lean faster, improve your heart health dramatically, and increase your endurance exponentially.

Your Instructor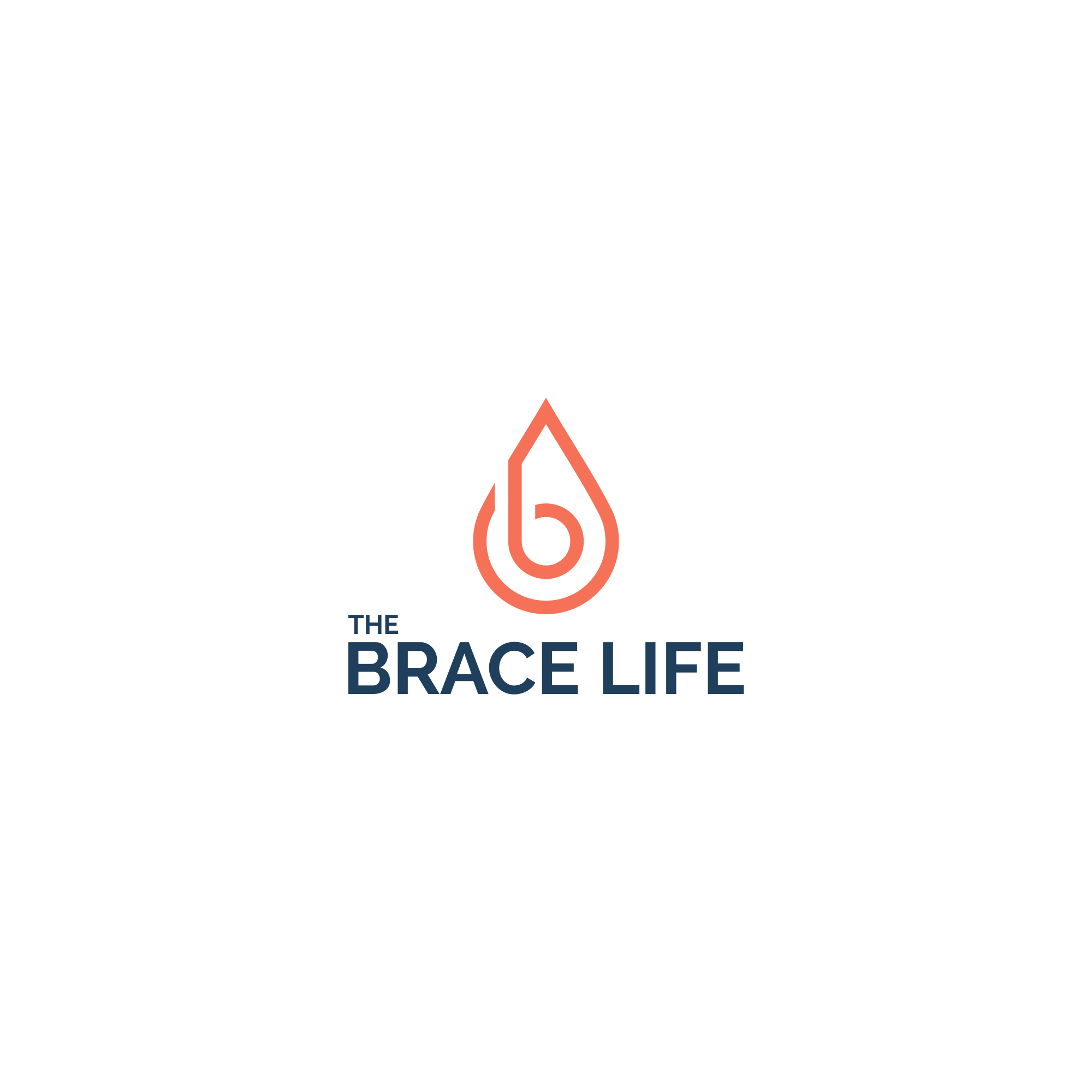 Known in the fitness community as the Mind-Body-Soul Connector and selected by Verywell.com as one of the top one hundred voices in wellness for 2020, Robert Brace is a celebrity wellness expert, motivational speaker, former soloist ballet dancer and star of the Food Network's weight-loss reality show "Fat Chef."
In 2008, he founded what is now known as Brace Life Studios (BLS), New York's destination for mind-body transformation. As a visionary fitness expert, he has the innate ability and personal mission to help people connect the dots between mind, body and soul. Brace believes that true fitness begins within and that by infusing "inner work" with physical workouts, his clients are able to realize substantial and sustainable results. Brace's 360-degree approach to fitness is based on his own journey and multifaceted background in dance and ministry.
While attending college on a dance scholarship, he experienced a terrible back injury. Facing the potential loss of his scholarship, Brace discovered a process to heal quickly and returned to peak performance. His personal transformation serves as the foundation for the principles used in his signature "28-Day Challenge" private training program. At the core of all of Brace's teachings are innovative exercises that reinforce mindfulness, spiritual nutrition and intelligent body work. He is also the creator of the Ballet Burn Out workout and Brace Supermodel Ballet Body Workout which he launched with client and Victoria Secret Model, Alicia Rountree.
Robert is also an ordained minister and author of "The Magic" a celebration of the wellness journeys of women of color.

An accomplished motivational speaker, Brace has inspired thousands with his story and engaging workshops. Additionally, as an ordained minister, he has delivered Spirit-led health and wellness seminars to various non-profit organizations and congregations. Robert has shared his knowledge on media outlets such as the Good Morning America, The View, The Food Network, Shape Magazine, Self Magazine, New York Daily News, Bloomberg Business week, & B.E.T.com

When he's not guiding clients toward whole body wellness, Brace enjoys spending time with his beautiful wife and two daughters.
Course Curriculum
Six Pack Abs 28 Day Challenge with Amy Morin
Available in days
days after you enroll
Amy Morin & Robert Brace 28 Day Challenge
Available in days
days after you enroll
Week Three: 28 Day Challenge Six Pack Abs
Available in days
days after you enroll
Frequently Asked Questions
When does the course start and finish?
The course starts now and is an ongoing subscription plan. You will have access to Robert and Amy's new weekly content. Once you sign up, you will receive instructions on how to access their live workouts on The Brace Life private Facebook group. All you need is some light to medium dumbbells and a mat.
How long do I have access to the course?
You have access to the course as long as you need it. If you need to cancel your subscription, simply email us at
[email protected]
, and we will take care of it for you.
How Can I Find Out More & Train In Your Studio
We would love to answer your questions and have you come for a visit. Simply go to www.bracelifestudios.com and fill out the form on our "Contact Us" page, and we can continue the journey offline.